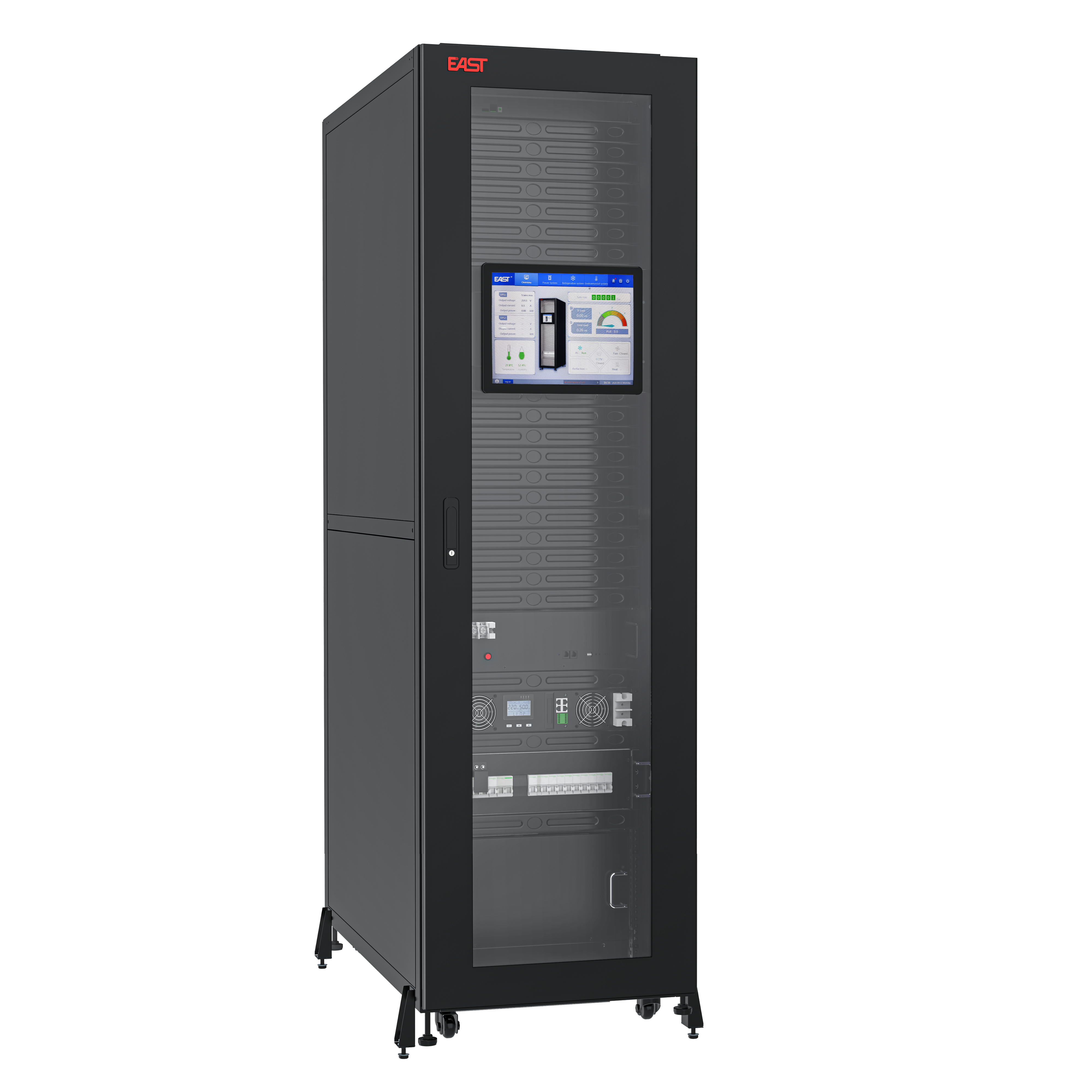 Characteristics
Technical Specifications
Documents
Fast delivery
The cabinet is an IT room;
Air conditioning, power distribution, UPS, monitoring, sensors and others are pre-assembled and pre-debugged;
Only need one mains power cable entry;
No need to install the outdoor unit;
The installation and test of a single cabinet only takes 1 hour, saving the installation cost and realizing a quick launch service.
Environmental-friendly
Cold aisle containment, making optimal refrigeration effect;
Integrated refrigeration equipment guarantees at the front end, make full use of civil air conditioning at the back end, realizing the best energy saving;
Intelligent power detection and management, cost-effective.
Intelligent management
15" display screen, Linux operation system, quad-core processors, smooth and stable system;
Real-time monitoring of the UPS, temperature and humidity, water logging, door contacts, smoke detection of the system to provide effective emergency alarm protection scheme and ensure that the equipment operates in a reliable infrastructure environment;
Logging in IP address via remote Web interface can access the modules and power and environment system, realizing remote operation and maintenance, centralized monitoring of multiple modules and unified cloud platform management;
Ability to monitor the IP equipment and any IP terminals, achieving unified network management for the IT room;
Remote mobile operation and maintenance via WeChat-miniprogram, SMS and telephone, no matter when and where can make real-time monitoring and unattended operation;
Access cloud escort, your operation and maintenance can be outsourced to us.
Single Cabinet

Easy Cube i9 Configuration and Parameters

System

Function cabinet

Standard configuration, 42 U, a maximum of available space 26 U

IT cabinet

Optional configuration, 42 U, a maximum of available space 40 U

Aisle type

Cold aisle containment

Power density range

13 kW

Battery deployment mode

Battery banks, battery cabinets, battery racks

Backup time

3-90 min (depends on batteries)

Installation method

Cement floor/elevated floor

Power supply system

Single/single-phase

IP rating

IP 20

Battery Type

Lithium-ion battery/Lead-acid battery

Cabinet

Dimensions

600 × 1200 × 2000 mm (excluding casters and anchor)

Front door

Glass door, Spring door device

Back door

Mesh door

Refrigeration system

Input power supply

220 ~ 230 Vac/50 ~ 60 Hz

Refrigerating capacity

2.0 kW

Space

8 U

Sensible heat factor

1

Communication interface

485

Air supply method

Supply air in front and return air in the rear

Refrigerant

R134a

Installation

Integrated rack-mounted

Emergency fan system

Input power

220 Vac

Function

Temperature control can be realized

Cold aisle at the top

Downside air supply

Installation

Install at the top of cabinet

Monitoring system

Monitoring system

Linux

Display screen

15-inch touch screen

Installation

1 U embedded

Water logging

Standard configuration, SMS or email alarms (Optional SMS Modem is required)

Sound and light alarm

Standard configuration, placed in front of the cold aisle inside the cabinet

Smoke detection

Standard configuration, SMS or email alarms (Optional SMS Modem is required)

Temperature and humidity

Standard configuration

Door contacts

Standard configuration

Spring door device

Standard configuration

PDU monitoring

Support

UPS monitoring

Support

Air conditioner monitoring

Support

Fire monitoring

Support

Lighting

Standard configuration, mounting on the top, lights on when the door opens, off when the door closes

Communication interface

RJ45

Protocol format

Modbus TCP/IP

Power distribution

Distribution switch

Well-known brands of switches + class C SPD

Mains/UPS feeding branch

Three-way mains feeding (one-way air conditioning + two-way IT)/two-way UPS feeding (two-way IT)

Power acquisition

Intelligent power detection, mains branches off to make data acquisition

Installation

3 U, rack-mounted

PDU

Vertical common model

Standard configuration, standard model with 12 ways

Vertical smart model

Optional, 10 ways

Firefighting

Firefighting module

Optional

Installation

Flange cover

Standard configuration, 1 U*15

Tray

Standard configuration, 1 set

Rail

Standard configuration, 8 sets

Cable accessories

Standard configuration, communication cables/power cables

Easy Cube i9 Datasheet - PDF